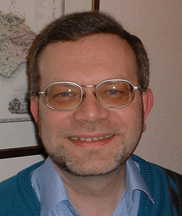 David Legge
David Legge lives in Hove and since 1992 has worked as an Announcer/Newsreader for the BBC World Service based at Bush House in London.
His first taste of local radio came in 1979 while in the sixth form at school when he was given the voluntary job of writing and reading the results of the Brighton Competitive Musical Festival for BBC Radio Brighton. Later he did voluntary work for Radio Brighton's Community access slot, becoming a reporter and presenter of On Parade-a programme about the Boy's & Girl's Brigade.(Having been a BB member)
Paid radio work followed in 1983 with the start of Southern Sound and for 4 years from the start of Southern, David worked as a Technical Operator and relief presenter.
Main progs:
Giants (oldies, his own show) and holiday relief on The Sunday Request Show, Ten by Ten a Saturday Morning chart show and Southern Sunrise the early breakfast show, which on one occasion he presented for 3 months continuously.
Was also Tommy Boyd's foil on the Tommy Boyd show which was a wacky Sunday late night phone in.
Between September 1987 and August 1993, he presented six programmes a week for BBC Radio Sussex::Daybreak (Mon-Fri) and David on Sunday (9am-noon).
David has loved radio since being bought a transistor radio for his 7th birthday and prefers its immediacy and spontaneity to the surreal world of television. Above all, he has always said that radio should be fun and he looks forward to establishing a lively and exciting radio station for Worthing, which should appeal to a broad cross-section of listeners.