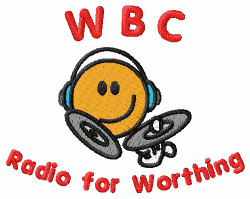 W.B.C.
The Wireless Broadcasting Company
"The Boy's are Back In Town"
After much talk with those involved in Worthing Radio in November 1999, and other local people who gave us a tremendous support and feedback, we decided to form a new company, W.B.C. keeping the hardcore of the original team with us.
This year the Radio Authority (who control radio in the UK) will award a licence for a new Radio Station broadcasting to the Worthing area.
It is W.B.C.'s intention to apply for this licence.There are a number of other groups who have also declared an interest in the licence. Most are based outside of the area, and therefore will have little local knowledge, and will base many of their functions at a head office somewhere other than Worthing.
We believe that the Radio Station for Worthing should have its home in Worthing, Employing, Training and Benefiting from the people of Worthing.
We also believe that Worthing's Local Radio Station should be answerable to the people of the town, it's community and it's businesses.
Those of us behind W.B.C. have spent our professional lives working for Local, National and International Radio Stations. Between us we have over 80 Years of professional experience.
W.B.C. WILL BE a Local Radio Station in every sense of the word. We will provide a first Class Programme Service with up to the minute News.(Local, National & International),Travel News, Community News and a service that really involves the people of Worthing.
Worthing serves, in radio terms, from Littlehampton in the West to Shoreham in the East and Pulborough in the North. From an advertisers point of view an exciting area to be able to communicate with.
W.B.C. is determined to give local radio the kiss of life. Where better to start than Worthing. W.B.C. will be taking a deep breath of Worthing's sea air and pumping it into the lungs of this fine town. Who knows, after Worthing the rest of the UK radio might open it's ears and spring into life.
There is a lot of work to do between now and next year.
If you feel you would like to be part of the best option for Worthing, W.B.C., contact the Wireless Broadcasting Company at the following address:
32 Bridge Road
Worthing
BN14 7BX
Telephone: 07939 011352
Email:info@wirelessbroadcastingcompany.co.uk
Once again we will be looking for YOUR support and feedback.


Wireless Broadcasting Company Registered No. 04076699


Contents Map The Team Links Advertising Contact Us Events